Disc Brake Kits
The Best Trailer Disc Brake Systems and Support in the Industry
Choose Performance Trailer Braking's disc brake systems to stop your trailer or fifth wheel safely. Turn to Performance Trailer Braking for professional installation recommendations and technical support.
Travel safely and rest assured that you are getting the best products for your trailer and the best expertise available from Performance Trailer Braking. Whether you need a complete installation or are doing the job yourself, we have just what you need.
Proven improved stopping performance.
All system components from one manufacturer.
DIY kits with everything you need, except bearing grease and brake fluid for hazmat reasons.
The name you can trust from an industry expert.
Professional installation nationwide.
Free technical support anytime!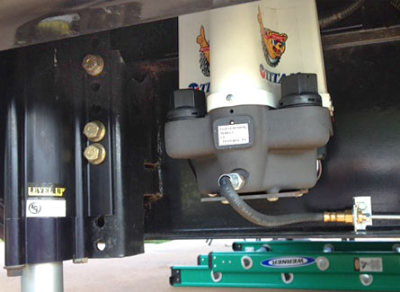 ​Why Choose Performance Trailer Braking?
We're the guys who are training all the best installers out there.
Doing the job yourself? We give you everything you need, including free support!
Unlike systems pieced together from various other manufacturers, Titan disc brake systems include all components made by the same manufacturer, tested, and proven to work.
When you buy our complete conversion kits, you will receive every last item you will need to complete the job—not just the discs and actuator, but every screw, every fitting, lengths of wire, and zip ties!
All our disc brake systems include free telephone consultation and technical support any day of the week.
You won't get that from the other guys!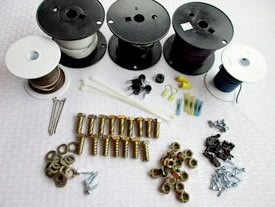 Titan Hydraulic Disc Brake Conversion Kits
Contact us for the perfect fit for your trailer. We offer systems for any trailer with electric brakes: Travel, 5th Wheel, Boat, Construction, Horse, Cargo & Car Haulers.
All conversion kits include:
Titan Brakerite EHB Actuator
Tandem Axle Brakeline Kit
Four Premier Disc Brake End Kits
All Necessary Installation Accessories
On-Demand Technical Support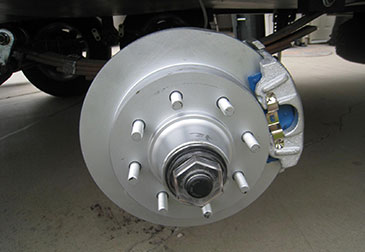 Pricing
These are all complete conversion kits with everything you need except for grease & fluid.
Titan 5-Lug 10" Premier Disc Brake Conversion Kit
Fits most single 3.5k axles $1175
Fits most tandem 3.5k axles $1550
Fits most triple 3.5k axles $1975
Titan 6-Lug 12" Premier Disc Brake Conversion Kit
Fits most single 5.2k and 6k axles $1200
Fits most tandem 5.2k and 6k axles $1700
Fits most triple 5.2k and 6k axles $2150
Titan 8-Lug 13" Premier Disc Brake Conversion Kit
Fits most single 6k and 7k axles $1325
Fits most single 8k axles $1350
Fits most tandem 6k and 7k axles $1925
Fits most tandem 8k axles $1975
Fits most triple 6k and 7k axles $2475
Fits most triple 8k axles $2550
8,000 lb. Tandem Axle & Disc Brake Upgrade from 7k Axle $3225
8k Tandem axle disc brake kit (Complete Kit)
2x 8,000 lb Dexter Axles
4x 4,000 lb Double Eye Leaf Springs
New U-Bolt Kit with Tie Plates
Custom Configurations
Don't see your trailer's configuration? Contact us for all available options! We also have suspension parts, axles, tires, and more.
Documentation & Support
Call any time for personal assistance or download available documentation and how to videos below.
"You'll never go back!"
I met The Titanguy at the Dallas RV show in September and have long been wanting disc brakes on my coach. Great gear, works very well... Read More I love them, the extra stopping power, quick response, peace of mind they are going to be there when I need to STOP !!!! Highly recommend if you are thinking about disc brakes to consider Titan and talk to Ron.
Tim Sacrey, Heartland Owners Group
"Wow, what a difference!"
Just finished having Disc Brakes installed yesterday by "Bill" the installer for Performance Brakes. Wow, what a difference! After completing yesterday we left on a 175 mile test journey. Read More Drove two lane twists, small towns, and freeway. The braking ability is much more than I expected. During my test ride with installer he had me do a hard brake situation going about 25 mph and we came to a stop in about half the distance of my old brakes. These brakes give you a lot of comfort when driving knowing I can stop quickly if needed. Interestingly, the old brakes which we took off only had about 8k miles on them and the pads were half worn and the eltromagnets were badly worn on two of the wheels. Granted we do more two lane twisty road driving than freeway driving. Bill the installer was very meticulous about his work and in addition found some wires that weren't crimp right (not related to brakes) and fixed them without saying anything until he was done. I would recommend him without any hesitation for Brakes and suspension work. I will report back if there's any change after our 175 mile trip home tomorrow.
Dave Lannoy, NROA Forum Member
"Disk Brakes Rock!"
Disk Brakes Rock! I just converted to disk brakes, using the Titan Performance Trailer Brakes. Whoa Nellie, do they stop smoother and quicker.
Jay Six, Arlington, TX